I can never get through an episode of Temptation Island without thinking we're living in a simulation. Do these supposedly happy couples really sign up willingly for this experience? And then act the way that they do in front of all those cameras? Season 5 has been a doozy already, and Episode 3 was no different. In fact, it had one of the most shocking moments in the series' history, as one-half of a partnership made a stunning comment about one of the single men. Here's the full breakdown of what happened in our Temptation Island Season 5, Episode 3 recap.
Who likes who again?
Over at the boys' villa, Tia is moving hard. She's feeling both Roberto and Great, and not exactly being subtle. Rob sees Great and Tia connecting, so asks Great about it. He admits he was going to ask Tia out on a second date, but this has now left the door wide open for somebody else. If Rob was single, I'd applaud him. But he's not, so he has no business being jealous. Still, at least he's gaining some clarity. He already doesn't know if he's going to leave the island with Vanessa.
Great is in high demand, as Tamie wants some commitment. She's pissed she wasn't invited on his first date, and wrangles an invitation for the next one. He's later confronted by Nafeesah, who was the unfortunate soul who accepted an invite for his first date. She reveals he had asked her to go and cuddle in the room that night. Now that he's making moves on other women, she lets him know that this won't be happening.
Meanwhile, the girls are talking about the dates they've just been on with the single boys. Paris has no problem going into detail when she describes what she'd do to Christian if she wasn't being filmed. After confessing she had more fun with Christian than she's ever had with Great, she said, "If there were no cameras [here], I'd suck his d*ck." We love a classy queen.
Later on, we discover Sebastian is salty about being paid dust by Marisela. He was expecting to go out on a date with her, and was left embarrassed when she asked someone else. Fortunately for him, she now has her eyes set on enjoying some time with him. Paris also sees her opportunity to get to know the man who has caught her eye since the experiment started: Tahjjic. "These girls finally woke up," both he and Sebastian say after accepting date invites.
Second dates go well for most people
The next day, second dates are underway. The guys take their single girls on a buggy through the woods, while the girls enjoy a bicycle ride with the boys vying for their attention.
Hall and Makayla are on their second date, and the conversation is moving fast. She wants to know where he stands when it comes to family, and it turns out they're both on the same page. They want kids in the near-future. He tells the boys the next day that he doesn't see the same "light" in fiancée Kaitlin's face when he talks about starting a family, that he saw in Makayla's. Then, he goes and tells Makayla the same thing. OUCH.
Paris comes to the realization that Tahjjic isn't the one for her. She tells the other girls that she'd "f*ck him, but wouldn't wanna be with him." She accuses him of having "no personality," and doesn't like the answer he gives when she asks him why he's on the show: "to have fun."
Time to party!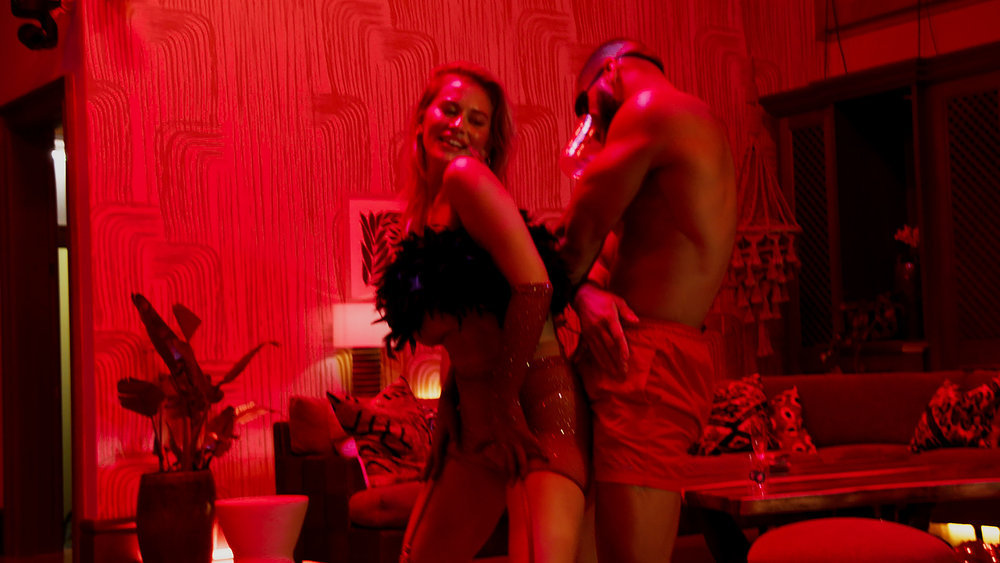 Over in the guys' villa, a burlesque party is underway. The single girls are wearing some suggestive outfits, and shaking their thing. Hall notes that his brain is like "scrambled eggs" when he sees Makayla enjoying herself. It's not all good vibes, though.
Tia is sad when she sees Rob flirting with her friend, Desiree. Rob seems to try and initiate a kiss with Desiree, but she pulls away. She wants him to speak to Tia, because she knows that they have been getting along. When Rob pulls Tia into the conversation, she feels disrespected that it's not one-on-one. When they do get that alone time, however, Rob closes the door entirely. "That ship has sailed," he says, despite Tia's pleas and claims to being "one of the few" single girls looking to make an actual connection.
The girls' villa are having their own party, Boys 'N' Babes style. There are roller skates, and intense conversations. Kristian likes "firecracker" Marisela, but says she'll be a "tough nut to crack." Vanessa, meanwhile, stakes her claim on Bryce. She tells him she "missed" him while out on a date today, and thinks he's "treading too carefully." He didn't want to be "selfish" in stealing all of her attention away from the other fellas, but that's exactly what she wants: a man to put her in her place.
Solo bonfires lead to fireworks
Host Mark Walberg arrives, and tells the girls that they will be heading to their first solo bonfire of the season. It's going to be an emotional experience, as they get to see a short but extremely telling clip of their significant other.
Kaitlin is first up, and sees Hall express his concerns about starting a family to both the boys, and Makayla. She admits that she's not ready for kids, and sees that as something down the line in around three or four years. She wants to focus on her career and her relationship, and why shouldn't she be allowed to have both? Mark notes that this is absolutely valid, but is she able to do that while remaining in a relationship with Hall?
Paris is next, and watches Great enjoy a lap dance. He speaks in confessional about having "fun," and Paris says that she feels she "bullies him all the time." She feels bad about the way she treats him, and gets to a point where she and Mark link it to the treatment she received from her father. Paris only met him when she was 11, but he has been "strict" on her ever since. Mark asks her to try and forgive her father for doing what he thought was best, and move forward.
Next up? Vanessa. Oh boy. She sees Rob speaking about how he always feels embarrassed to be around Vanessa. He then says he is "almost entirely sure I'm leaving the island by myself." Anger consumes Vanessa, and she tells Mark she's close to walking over to the other villa and knocking Rob "upside the head with a shoe." She is hurt, and betrayed. Vanessa almost gets vulnerable with Mark, but holds a lot of it back. There's a wall there, just waiting to crumble.
Finally, Marisela sees Christopher praising another woman, then dirty dancing at a party. She's not where she wants to be "mentally, emotionally, and financially." Marisela thinks that Chris could do better, and almost find an "upgraded" version of herself. Mark reminds her that there are plenty of people out there who will "love you just as you are." She then opens up about how she feels constantly corrected by Chris, who is trying to mould her into his idea of perfection.
Then comes the teaser of the boys' bonfire, ahead of next week. Chris sees Marisela emotional after they were separated. He thinks it's good that she's having her alone time. Then Great watches, as Paris makes her filthy comments about Christian. Cut to the credits; we're going to have to wait for Episode 4 to see the fallout from this one!
Temptation Island continues Wednesdays at 9/8c on USA.
TELL US – WERE YOU SHOCKED AT THE COMMENTS MADE BY PARIS IN THIS EPISODE? SHOULD HALL END THINGS WITH CAITLIN IF SHE DOESN'T WANT TO HAVE A FAMILY YET? WILL VANESSA MARCH TO THE OTHER VILLA AND KNOCK ROB UPSIDE THE HEAD?